Install
From Entropy
tl;dr - Download the zip Entropy and extract the zip in the macros folder of MQ. Copy the custom.inc in to the data folder Start the mac up.
Download
Obtain a copy of the macro here: Entropy

folders
Once you have downloaded the macro, install it in the following folders.
macros/entropy - Contains all the main macro and main database file
macros/entropy/inc - Contains all the macro includes
macros/entropy/data - Will contain all files the macro creates

Add custom.inc file to your data directory (Right click-save as)

It is YOUR job to backup the data folder
files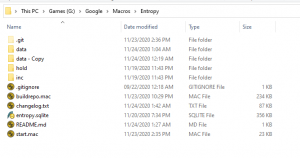 macros/entropy
changelog.txt - macro history of changes  
start.mac - main macro  
entropy.sqlite - main macro data repository  

macros/entropy/inc
class.ber.inc - berserker
class.brd.inc - bard
class.bst.inc - beastlord
class.clr.inc - cleric
class.dru.inc - druid
class.enc.inc - enchanter
class.mag.inc - magician
class.mnk.inc - monk
class.nec.inc - necromancer
class.pal.inc - paladin
class.rng.inc - ranger
class.rog.inc - rogue
class.shd.inc - shadowknight
class.shm.inc - shaman
class.war.inc - warrior
class.wiz.inc - wizard
common.inc - all common subs/functions
control.inc - all / commands and binds
events.inc - all events
initialize.inc - all mac startup and initialization routines
mode.inc - all off design modes

macros/entropy/data
custom.inc - all of your custom routines (this file is not includes. DL and add it)
all custom character databases - added on mac first start
zone database - added on mac first start
shared database - added on mac first start
loot database - added on mac first start

Plugins
The following plugins are required.
mq2collections
mq2moveutils
mq2nav
mq2dannet
MQ2lua
mq2sqlite

All of these plugins are available on Builder, RedGuides and MMOBugs

Starting
Do a /mac entropy\start.mac if it yells at you for not having some plugins started, start them up and try the command again.
When you see something along this line

Entropy::200707.01
Palatial Guild Hall::guildhalllrg_int
Help::/aux or /command aux
Ready::3.35s

You are right as rain.. (your numbers may vary)
new build
New builds and update with database changes will always take a little longer. It is advised you start 1 toon up first, let the changes be made, then start the remaining toons.
A new start looks like so:

Note the delay on the character schema update. This portion will always take the longest.
options
You can start the mac with up to four (4) options.

| | |
| --- | --- |
| auto | [True/False] allows you to start the mac in auto.. or not.. |
| debug | allows you to start the mac with a debug option enabled |

Example: /mac entropy\start.mac debug:cast auto:true debug:rez

Order is not important, syntax is.
custom.inc
The custom.inc file is kept complete separate so it will never get overwritten on a DL/update/whatever.
All custom hooks, subs, engine settings will go in this file. What you do in here is your business. There is no support for it.